Description
Description
Thanks to its favorable price and versatility in the production of various types of products, it is the optimal solution for start-ups and for production of pilot batches, formulation of recipes and testing of new types of production.
Processes:
Heating, cooling
Mixing
Vacuum
Dispersion
Emulsification
Homogenization
Dearation
Examples of use for different sectors of the industry
– Milk – soft curd, kefir, condensed milk, reconstituted milk powder, cream.
– Fats – mixture of oils, margarine, mayonnaise, paste
– Fruit and vegetables – jam, ketchup, sauces, puree, pastes
– Confectionery – creams, fillings, chocolate-nut pastes, chocolate glaze, honey.
– Non-alcoholic beverages – juices, nectars, drinks
– Cosmetics – creams, shampoos, balzams, gels, ointments, toothpaste
– Farmaceutics – ointments, emulsions, gels
– Chemicals – cleaning agents, adhesives, varnishes, polish, disinfectants
The equipment consists of a working vessel with an insulating layer, a heating / cooling jacket, a low speed stirrer with scrapers, a bottom rotor-stator homogenizer. The container is mounted on rotating supports with position fixation.
The product is unloaded from the homogenization vessel simply and quickly thanks to the tilting system (with manual or mechanical drive depending on the vessel volume). The lid is easy to open and is hermetically fixed with four screws in the closed position.
Depending on the customer's requirements and needs, there is a choice of different levels of automation: weighing and dosing of raw materials, heating and cooling temperature control, emulsification process, homogenization, regulation of agitator speed and vacuum level.
Vacuum – the process of air removal allows to reduce the processing temperature of the product, maximizing its utility properties.
Mixing – the geometry of the working homogenizing vessel and the special shaped stirrer ensure uniform mixing of the product without dead zones. Thanks to special "floating" scrapers, the product does not stick to the walls of the container and does not burn, they also help to maximize the heat exchange between the wall and the product.
Homogenisation – the integrated rotor-stator homogenizer located in the bottom of the container ensures fast and efficient dispersion, emulsification and homogenization. The obtained finished product looks attractive, has a stable and homogeneous structure, does not separate and has a long shelf life. Recirculation and discharge of the product is also provided by means of a homogenizer,  it is not necessary to use auxiliary pumps, which increases hygiene and ease of maintenance of the equipment.
Heating and cooling – the jacket for heating and cooling makes it possible to carry out heating, melting and cooling processes in one device. Optionally, "direct steam injection into the product" allows to significantly reduce the heating time and shorten the processing time of the product.
The automated control system eliminates the human factor and guarantees consistently high quality of finished production from batch to batch.
Benefits
Low purchase costs for the equipment, ideal for start-ups, for developing new recipes and for manufacturing pilot batches.
Possibility of processing a wide range of liquid, pasty, viscous and highly viscous products
Minimum filling of 15% of the vessel volume

High performance

Reliable design and long trouble-free operation

Rapid transition to the production of a new kind of products

Easy operation, maintenance and sanitation

Low operating costs
Optional
Funnel for inserting ingediences during the working cycle

Tilting of the container

Different types of stirrers

Adjustable stirrer speed

Direct steam injection into the product

Different levels of automation

GMP design
VMG M LAB is the basic model and is suitable for the production of pilot batches of products and for industrial production of small to medium capacity. For mass production, we recommend choosing GURT or VMG S as they are equipped with all necessary equipment.
Related Products
Quick View
The prunes in chocolate production lines are suitable for making chocolate confectionery filled with plum and nut or almond.
The line assembly depends on the customer's technological process. Contact us and we will design a ready-made solution exactly according to your requirements and needs.
CONTACT US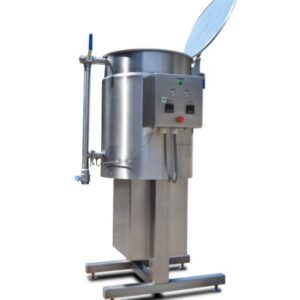 Quick View
All
,
Atmospheric
,
Atmospheric
,
BY ABC
,
BY RAW PRODUCTS
,
Cooking equipment
,
Delicacy, snacks, nutritional supplements
,
Drinks
,
Food
,
Grain
,
Homogenizers
,
Milk
,
Milk, dairy products
,
Nuts
,
Plants, herbs
,
PODĽA PRODUKTOV
A soy milk production equipment is a device specifically designed for the production of soy milk, which is a healthy alternative to cow's milk. Compared to cow's milk, it contains 51% more protein, 12% less calories, 24% less fat, 15x more iron, no cholesterol.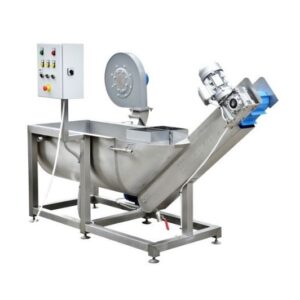 Quick View
Bubble washer WASH W is a professional appliance designed for efficient and gentle washing of a wide assortment of fruits and vegetables with a fine structure including leaves, light piece and fragile products, grains, legumes and the like.
CONTACT US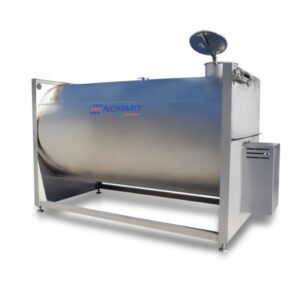 Quick View
All
,
BY ABC
,
BY INDUSTRY
,
BY RAW PRODUCTS
,
Confectionery, bakery products
,
Food
,
Homogenizers
,
Honey
,
Honey
,
PODĽA PRODUKTOV
,
Vacuum
Pasting or creaming honey is a controlled crystallization of honey. Pasted honey is also called creamed honey, because of its consistency resembles cream. Pasted honey retains all valuable substances, is easy to spread, easy to collect, does not leak, drips and does not change its properties when stored. The creamy consistency is achieved by preventing the formation of large interconnected honey crystals, the crystals being fine and unconnected.
Company NORMIT FOOD s.r.o. designs and manufactures a customized line according to your requirements and needs.
CONTACT US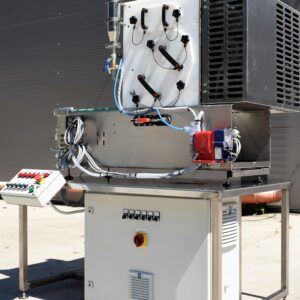 Quick View
All
,
BY ABC
,
BY INDUSTRY
,
BY RAW PRODUCTS
,
Confectionery, bakery products
,
Food
,
Formers
,
Fruit
,
Grain
,
Nuts
,
PODĽA PRODUKTOV
Forming molding machine is suitable for forming - molding of protein, chocolate, coconut bars, biscuits, and various kinds of confectionery.
CONTACT US
Quick View
All
,
BY ABC
,
BY INDUSTRY
,
BY RAW PRODUCTS
,
Food
,
Formers
,
Grain
,
Meat and fish products
,
Meat, fish, seafood
,
Plants, herbs
,
PODĽA PRODUKTOV
,
Vegetable products
,
Vegetables
Forming machine, molding equipment is suitable for molding - shaping of minced meat, poultry, fish, vegetables, potatoes and similar raw materials.
CONTACT US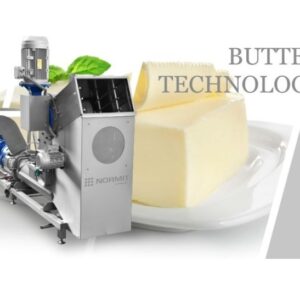 Quick View
All
,
Atmospheric
,
Butter
,
BY ABC
,
BY RAW PRODUCTS
,
Food
,
Homogenizers
,
Milk
,
Milk, dairy products
,
Oil and fat
,
PODĽA PRODUKTOV
Frozen butter homogenizer is intended for the mechanical processing of frozen blocks of butter, cheese, spreads, margarines or other products without first being subjected to higher temperatures and thawing, thereby preserving its properties, reducing processing time and preparing the product for immediate use in another manufacturing process or for packaging (change from -18 ° C to +6 ° C).