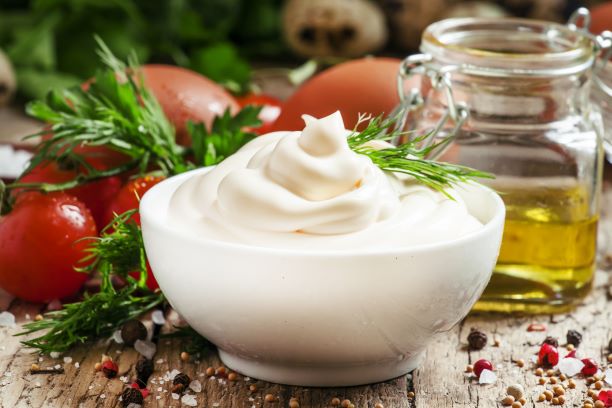 Mayonnaise queen of sauces
Mayonnaise is popular as an ingredient in spreads, salads. Especially before the holidays it is bought by everyone. In Slovak, it is a tradition to make potato mayonnaise salad, where mayonnaise is an essential part.
Mayonnaise is an emulsified sauce based on oil, water, vinegar and flavors such as sugar and salt. The emulsifier is pasteurized egg yolk or egg melange.
What is good quality mayonnaise?
In the past, mayonnaise was produced according to a industry standard that declared that mayonnaise consists of 8 egg yolks, 78% vegetable oil, vinegar and salt. In the 1990s, the standard was abolished, resulting in a deterioration in the quality of industrially produced mayonnaise.
At present, the production of mayonnaise is regulated by Decree no. 29/2014, which states that the basic mayonnaise is a semi-solid consistency product obtained by emulsifying the vegetable oil in the egg component and in the acidifying component, containing at least 78.5% by weight of total fats and at least 6% by weight. egg yolk, acidifying ingredient and salt free of additives. In addition to these basic substances, it may contain sugar and additives which do not alter the taste, color, smell or consistency of mayonnaise.
Egg component means a heat-treated egg mixture, a heat-treated egg yolk or a heat-treated egg white.
Mayonnaise product is mayonnaise to which other foods or additives are added and are referred to as:
Flavored mayonnaise – mayonnaise with added food that gives mayonnaise a characteristic taste, color, aroma or consistency. It may contain additives.
Mayonnaise sauce or spreads – contains mayonnaise to which drinking water, other foodstuffs and food additives have been added.
Tartar sauce – mayonnaise product containing egg, vinegar, sterilized cucumbers, thermally modified starch or other emulsifier, mustard, sugar, salt and spices.
Nutritional value
Mayonnaise is not just an ordinary flavor. It can contribute to the nutritional value of a balanced diet. Mayonnaise contains a high proportion of fats. Fats are an important source of energy, help maintain body temperature and function as mechanical protection of internal organs. They play an important role in the absorption of fat-soluble vitamins and contain various preservatives, such as antioxidants and essential fatty acids, which are required for hormone production. Fats should account for 20-35% of the total recommended daily energy intake, depending on gender, age, physical activity and health.
Quality mayonnaise contains quality vegetable oil usually rapeseed. It has a low content of saturated fatty acids and the highest content of omega 3 acids from commonly used oils. Rapeseed oil is valued for its antioxidant content. tocopherols (vitamin E).
Mayonnaise as a source of omega 3 fatty acids, which are crucial for healthy growth and vision, helps maintain blood fat and cholesterol levels. Rapeseed oil helps to address the lack of essential acid intake while maintaining the right ratio of omega 3 to omega 6 fatty acids in the overall diet.
Essential fatty acids help lower cholesterol and thus prevent blood vessels from clogging. However, the human body is unable to create them by itself and must therefore accept them from the diet.
Thanks to vegetable oil, mayonnaise allows the body to absorb the fat-soluble vitamins A, D and K. These vitamins are only fat-soluble, and therefore the body needs a certain amount of fat to be absorbed, for example, in mayonnaise.
Mayonnaise, thanks to its creamy taste and vegetable oil content, becomes a great flavor and ideal food.
Comments are closed