STEAM DEFROSTER

Ideal for defrosting small fruit, like elderberries, berries, strawberries
Automatic thermoregulation.
Temperature controlled
Easy to operate
High-quality
Defroster has adjustable feet and is equipped with a control mechanism for water drainage
Saving costs and production time
Effectively disinfects and reduces residual pesticide
Optional function to set the time for water supply 
Defroster is widely used in defrosting blocks of meat, pork, beef, lamb, turkey, fish and seafood with minimum weight loss and time.  (This machine can operate at low water temperature).
PRINCIPLE
Construction consists of a rotating drum (divided into two zones) with large diameter shaft inside. Speed is adjustable and a continuously rotating drum allows to achieve a single movement of the product. The speed of the drum, time and temperature are adjustable. This feature allows you to select the optimal processing for your product.
DEFROSTER NORMIT keeps the temperature range specified in the control panel. Heating is provided by a built-in heating element. Made out of stainless steel. Can be equipped with a stainless steel basket, desk, drip tank, and the fluid drain.
FEATURES
Long shelf life of products
Energy savings
Water circulation
Low noise level
Cylindrical design prevents leakage of product
Radial construction eliminates shaft damage
High reliability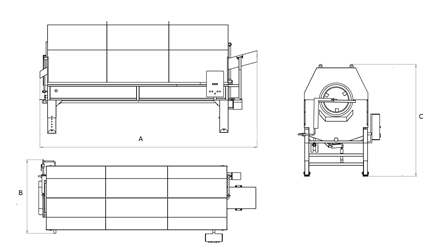 Specifications:                                                                                    
| | | |
| --- | --- | --- |
| Model | BD 600/1400 | BD 1200/4000 |
| Dimensions LxWxH, mm | 2509x1779x1311 | 5050x1710x2600 |
For more information, please contact our sales department at This email address is being protected from spambots. You need JavaScript enabled to view it.