STEAM DEFROSTER
 Бланширователи NORMIT
Ideal for defrosting small fruit, like elderberries, berries, strawberries
Product in-feed trough a variable pitch feed auger with heated shaft
Automatic thermoregulation.
Temperature controlled
Easy to operate
Stable quality -Keep original color and fresh, close nutrition
*The sterilization device is optional
Defroster has adjustable feet and is equipped with a control mechanism for water drainage
Saving Costs -cost reduction by the thawing in short time
Effectively disinfect and reduce residual pesticide
*Option-function to set a time for water supply and thawing hours
Defroster is widely used in defrosting block meat, pork, beef, lamb, turkey, fish and seafood safely with minim weight loss and less time.  (This machine always can operate at low water temperature which is under 10℃ thawing in a short time).
PRINCIPLE
Construction consists of a rotating drum (divided into two zones) with large diameter shaft inside him as adjustable speed and provides a continuously rotating drum to achieve a single movement of the product in defroster. Space for processing is made entirely of perforated material for complete and rapid removal of condensate. The speed of drum, time and temperature are adjustable. This feature allows you to select the optimal processing for your specific product.
DEFROSTER NORMIT tank is jacketed exchanger. Heating is provided by a built-in heating elements.
DEFROSTER NORMIT keeps the temperature range specified in the control panel. Made of stainless steel. Can be equipped with a stainless steel basket, desk and drip tank and the fluid drain.
FEATURES
Long shelf life of products
Energy savings
Water circulation
Low noise
Cylindrical design prevents leakage of product
Radial construction eliminates shaft damage
High reliability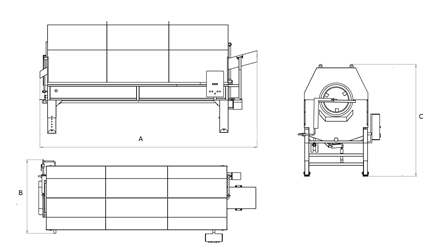 Specifications:                                                                                    
| | |
| --- | --- |
| Material | AISI304 |
| Length, mm | 3000 |
| Width, mm | 1800 |
| Height, mm | 1900 |
| Weight, kg | Not more than 1000 |
| Productivity for the duration of blanching during 2 minutes, kg/h | 1500 |
Model

BL-E-100

BL-E-150

BL-E-200

Productivity, kg/h

80

120

160

Geometric capacity, l

100

150

200

Working capacity, l

75

110

150

Range of working temperature, °C

0 – 100 (settings from control panel)

Power, kW

7,5

15

21

Weight, kg

75

90

11
Similar Items:
Fruit and vegetable processing line
Details
Dried potatoes and vegetables processing line
Details
Equipment for abrasive peeling  out vegetables
Details
Technological line fruit and vegetable processing
Details